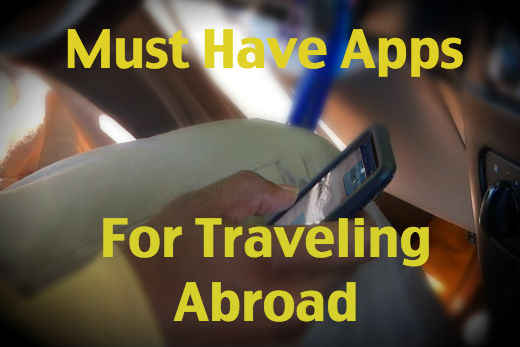 It used to be when you went abroad, on a house exchange or cruise, that you had a few time-tested tools of navigating your way around the places you visited. It wasn't uncommon to have a pocket guide for common phrases, currency exchange rates, and another travel needs. Now that we have smartphones and tablets, everything has gotten a little easier, and that includes travel. Here are some great apps for your next house swapping trip abroad.
Languages: Google Translate (Free on iOs and Android)
Need to say "Where is the hospital?" or "Is this the right train?" on your next Paris house exchange? Communication is no problem with these translation apps. Travel + Leisure declares Google Translate the most comprehensive app, and it's definitely that. Google Translate is free and features 64 languages for typed and spoken translation. You can even translate with your camera and offline, which saves that valuable data as you participate in a house exchange in areas where data charges are high.
Transit: Moovit (Free on iOS, Android, Windows Store)
There is nothing more I hate than wandering a city clueless about its public transportation system. Google Maps always makes me download a separate transit app for the area or a generic Transit app that may work with the bus or subway, so finally I decided to get an app that could handle everything. That's Moovit. Moovit is a crowd-sourced transit information app for 55 countries. It informs you on the best routes for public transit, as well as any interruptions you may face. It also lets you see what's nearby, and shows you points of interest, so you'll never be bored on your next house swapping adventure.
Currency Exchange: XE Currency (Free on iOS, Android)
XE Currency has been a currency exchange tool for years, first in the form of a website, now in a mobile app. It's free, and helps you calculate the currency exchange rate for over 180 currencies. The Pro version unlocks a few more features and doesn't feature advertisements. No need for the currency exchange charts that get outdated within weeks now.
Documents: CamScanner (Free on iOs, Android)
When traveling abroad for any reason, we often need to have important documents with us. We may need medical papers, papers for our animals, and other documents. CamScanner is a good way to take a photo of them and create an easily accessible as a PDF. It's a free app I've used to catalog receipts and other things while traveling or at home, and it's easy to use.
Hopefully your next house swapping trip will be a little easier thanks to these apps. Just be aware of your surroundings and be sure you don't app and walk, or you may end up in a fountain or out in the middle of a strange street!
Contact us for more information on house swapping either in the United States or internationally, because we have properties located throughout the world, and want to let you travel the world your own way!